Quality Control Specialist, Amy Lyons started working in the mortgage industry in 2001 and has been with Direct Mortgage Loans for 10 years. Prior to her work in the industry, Amy was a store manager in the pet retail business for 18 years and opened seven new Petco stores in her region. Despite the retail management success after years of working nights and weekends, she decided she wanted to switch paths and has never looked back since.
When asked what she loves most about the industry she states, "I have a knack for attention to detail which is why I love doing quality control. It's very gratifying to know I've played a small part in helping someone purchase a home. I remember at the age of 25 when I bought my first home how exciting and terrifying it was. Having the right person or company to help you through the process makes such a difference."
Amy, better known as the 'Kitten Lady,' was awarded as a DML Volunteer of the Quarter this year for her incredible work fostering orphaned kittens. Over the past ten years, she has fostered over 400+ kittens and has a 100% adoption rate for all the animals she has rescued. Furthermore, she was recognized by the Howard County Police Department as the Animal Control Volunteer of the Year.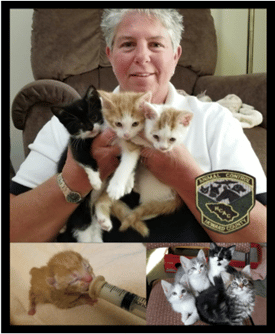 Amy- We can't thank you enough for all the incredible work you have done over the past decade. Your passion for customer service and your clients do not go unnoticed and we're so grateful to have you. We can't wait to see what you will accomplish in the years to come!