If you have been contemplating selling your home, it may be an ideal time to list your home. Here are some best practices to help sell your home to take advantage of today's real estate market!
Determine The Market
Consider the housing market and determine if you're in a buyer's or seller's market. A seller's market occurs when there is a higher level of demand for housing than there are homes available for sale. In contrast, a buyer's market occurs when there are more homes for sale on the market than there are interested buyers. Learn more about the characteristics and differences between a Buyer's vs. Seller's Market in our blog!
Price Your Home Accordingly
When pricing your home to sell, finding the right listing price is crucial to ensure you're able to receive the best offer. If your home is overpriced, you miss the opportunity to attract buyers. While if you price your home too low, you may run the risk of losing out on some serious financial gains. We suggest contacting a Real Estate Agent to ensure an ideal listing price. Check out our blog Real Estate Professionals Keep You Safe to learn more about the benefits of working with an expert!
Stage Your Home
Making some small improvements to your home could help you appeal to potential buyers, and help you receive a higher return on your investment. According to Keeping Current Matters, due to the limited number of homes for sale, more buyers are willing to take on home improvement projects after they purchase. Therefore, you may only have to do some minor updates before listing your home.
A recent survey from Realtor.com found that "the preparation process took less than a month for over 50% of home sellers this past year, with 20% completing it in less than two weeks." Here are a few small projects to consider if you plan to sell your home: landscaping, minor cosmetic updates, and touch-up painting. Get more budget-friendly Staging Recommendations by reading our blog!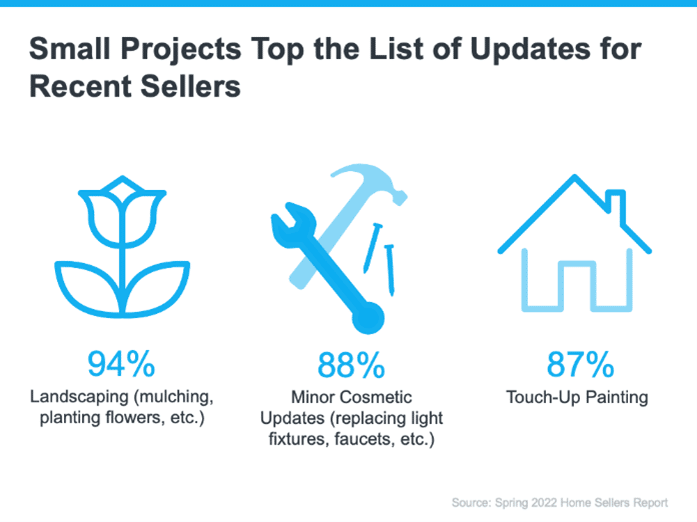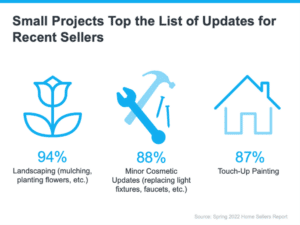 Plan Your Next Move
Getting your house sold is only half the battle. Make sure you plan your next move accordingly and consider your timeline, moving expenses, and future housing. Apply some of our Moving Tips & Tricks to help avoid common setbacks. This will ensure the ENTIRE process is a breeze from start to finish!
If you're planning to sell your home, Direct Mortgage Loans would be happy to help with your next home purchase. Learn about the home buying process, and the variety of loans we have to offer in our NEW Homebuyer Guide!