If you're renting now, the time to buy has never been better! Moreover, purchasing your first home can be a big decision, but there are many benefits of homeownership vs. renting. Check out some of the benefits of homeownership to see if this is the right choice for you!
Tax-Deductible
Owning a home can allow you to deduct expenses such as mortgage insurance and property taxes from your federal and possibly state taxes!
Build Equity
According to Investopedia, home equity represents the difference between how much you still owe on your mortgage and the market price or value of your home. In other words, as you make payments to your mortgage overtime you are saving as the value of your home increases.
Freedom to modify a property
Homeownership offer tremendous freedom to make your house your own. Also, you don't need to worry about getting your landlords approval to own pets, paint, or make any changes you make to your house!
Good Investment
Purchasing a home is a great long-term investment if you are planning on staying in your home for a long time. Additionally, homeownership can provide a substantial return on investment due to appreciation over time!
Build Credit
Paying off your mortgage can positively increase your credit score. Making payments on time every month can not only help you improve your score but diversify for your credit mix and increase the length of your credit history.
Many times, the obstacle holding potential homebuyers back is the lack of down payment. Did you know you can buy a home with little or no money down? Check out some of the other home buying misconceptions:
Can't Afford a Mortgage: Buying a home can be more affordable than you think! Check out this example based in Highland, Indiana where we compare the monthly price to rent vs. buy!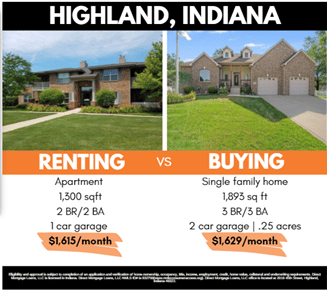 Don't Have Money for a Down Payment: Direct Mortgage Loans has several low-down payment programs to help you buy a home of your own. Also, you can check out our Budgeting Template by clicking here!
Bad Credit: There a variety of Loan Programs for eligible home buyers with less-than perfect credit. Before you disqualify yourself, contact our team to learn about your options. You can also check out our blog post on Increasing Your Credit Score!
I Recently Short-Sold My Home: Recent industry rule changes make it easier to buy a home after a short-sale or a foreclosure.  
Hassle of Getting a Mortgage: Direct Mortgage Loans makes the process, quick, easy, and direct. It's as easy as downloading our app and completing most of the process from the comfort of your home.
Looking to purchase a home? Contact one of our expert Loan Officers today to learn more about the programs that can make you a homeowner now!