6 Tips for Storing Your Holiday Decor 
Decorating your home is a wonderful way to get into the holiday spirit but can become overwhelming when it is time to store and organize these items. Implement some of these holiday decor storage tips to give yourself the gift of an organized home this year! 
Declutter Old Decor
According to Extra Space Storage, declutter all holiday decor and get rid of anything that is broken or that has been unused from the last year. This step should be done before you put away décor that was being used in your home that season. If you're looking for more decluttering inspiration, check out our blog on Decluttering Tips!  
Categorize & Label
Categorize decor by holiday and keep all like items together. Make sure to label all boxes and the items it contains. By labeling, you'll clearly know where your items are since you are not accessing these items daily.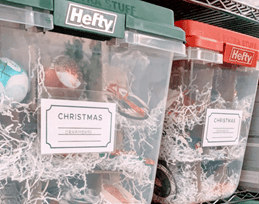 Use Clear Bins
Consider investing in clear storage bins to make finding items easier. This will prevent you from digging through storage bins every year to find what you are looking for. Be sure to measure your storage area before you purchase the bins to ensure you make the most out of your home's space!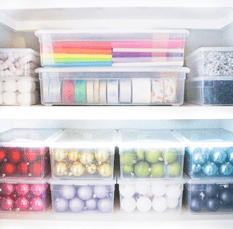 Ornament Storage
There are many options for storing your ornaments. Furthermore, you can purchase an Ornament Storage Container from Amazon, or considering making your own ornament storage by saving your leftover egg cartons!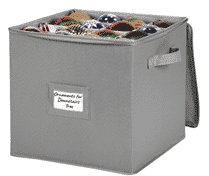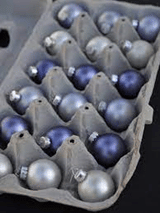 Storing Large Decor
Garment bags are great for storing larger holiday decor! These garment bags are great for storing door wreaths, signs, and wrapping paper. Moreover, they will protect your decor from any damage or dust while in storage!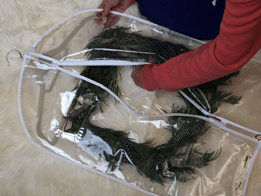 DIY Storage
There are many items lying around your house that could be used for holiday decor storage. For example, prevent your holiday lights and garlands from tangling by wrapping them around a piece of cardboard. Additionally, use hangers for your tissue paper to keep it wrinkle-free, and easy to access!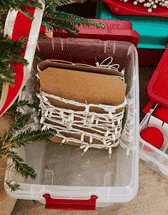 Looking to prepare your home for the holiday season? Read more on our blog, "How to Prepare Your Home for Winter." Thinking about purchasing a home this season? Contact one of our expert Loan Officers!