FHA mortgages just got a price cut. Beginning March 20th, 2023, mortgage insurance premiums will be lower on most FHA loans, making payments more affordable and qualifying easier. Learn how the FHA mortgage insurance reduction makes financing more affordable!  
What are FHA mortgage insurance premiums (MIP)?
An FHA Mortgage Insurance Premium (MIP) is an additional payment the borrower pays its lender to secure the loan. MIP is a way to protect the lender's financial interest in the case of default on an FHA mortgage. Specifically, the FHA requires both upfront and annual mortgage insurance for all borrowers, regardless of the amount of the down payment. Furthermore, this is an additional charge the borrower must pay on top of monthly principal and interest payments. 
What is an FHA loan?
FHA Loans are governed by the Federal Housing Administration and can often accommodate borrowers with lower credit scores, income, and cash-to-close compared to conventional loans.  Most common among first-time home buyers, the following benefits are typically associated with an FHA loan.  
3.5% down payment.

 

Flexible use of gift funds and grants for a down payment. 

 

Flexible qualifying credit – it is possible to qualify with a lower credit score.*

Upfront mortgage insurance may be financed or paid at the closing table.

 
The maximum amount you can borrow on an FHA loan is $472,030 in most areas. Moreover, the maximum loan limit for FHA borrowers in high-cost areas is $1,089,300. Special exception loan limits in Alaska, Hawaii, Gaum, and the U.S. Virgin Islands cap single-family home loans at $1,633,950. 
| Property Size | Low-Cost Area | High-Cost Area | Alaska, Hawaii, Guam, U.S Virgin Islands |
| --- | --- | --- | --- |
| One-Unit | $472,030 | $1,089,300 | $1,633,950 |
| Two-Units | $604,400 | $1,394,775 | $2,092,150 |
| Three-Units | $730,525 | $1,685,850 | $2,528,775 |
| Four-Units | $907,900 | $2,095,200 | $3,142,800 |
How much can I expect to save? 
FHA homebuyers and homeowners can expect to save an average of $800 per year according to a HUD press release. Additionally, borrowers with higher loan amounts can expect to save even more with this reduction. To better understand how much you can expect to save, let's compare Mortgage Insurance Premium rates before and after this reduction.  
 

For FHA borrowers taking out a loan longer than 15 years, the mortgage insurance premiums will drop from 0.85% to 0.55% with a base loan amount of $726,200 or less.

 

For FHA borrowers taking out a 15-year fixed mortgage with a 10% or greater down payment, the MIP will expire after 11 years, and the cost drops from .80% to .50%. 

 

A 0.75% MIP is now charged to borrowers with loan amounts above $726,200, down from a 1.05% MIP previously. With a down payment of 10% or more, the MIP term is 11 years, and the cost ranges from 1% to 0.70%.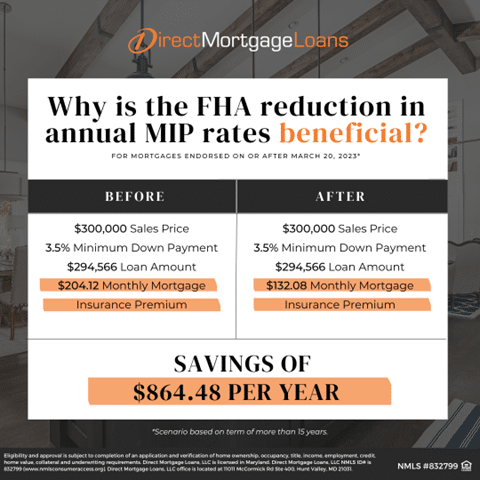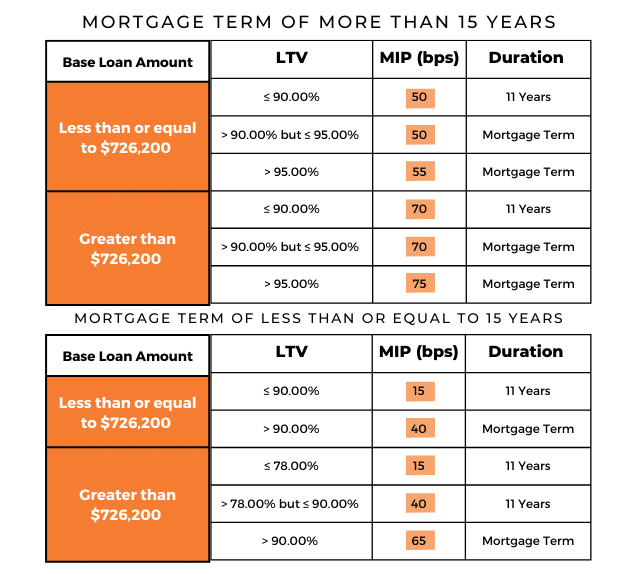 What is the reason for cost reductions?
According to the HUD press release, "The Biden-Harris Administration has remained committed to making homeownership more accessible to American families. As the cornerstone of building wealth, a key factor in fostering economic stability, and a way to close the racial wealth gap, homeownership is a critical milestone for many families." In other words, the FHA Mortgage Insurance Premium (MIP) reduction has the goal to make homeownership more affordable, accessible, and attainable.
Who will be affected by this change?
Current and future home buyers who wish to purchase a home with an FHA loan, and borrowers who wish to refinance their FHA loan can expect to be impacted by this change. It is estimated that 850,000 homebuyers and homeowners who purchase single-family homes, condominiums, and manufactured homes insured by FHA will benefit from this reduction.
How can I find out more?
If you have any questions or are looking to take advantage of this reduction by using an FHA loan, Direct Mortgage Loans would be happy to help. If you or someone you know has been unable to qualify for a mortgage due to income or has been hesitant to because of higher rates, this may be the sign you needed to take another look!**
 *Eligibility and approval is subject to completion of an application and verification of home ownership, occupancy, title, income, employment, credit, home value, collateral and underwriting requirements. Direct Mortgage Loans, LLC is licensed in Maryland. Direct Mortgage Loans, LLC NMLS ID# is 832799 (www.nmlsconsumeraccess.org). Direct Mortgage Loans, LLC office is located at 11011 McCormick Rd Suite 400 Hunt Valley, MD 21031. This is a paid endorsement. Equal housing lender.
**Rates subject to change.