Is a 20% down payment needed to purchase a home? Let's break down this common home buying misconception! Surprisingly, you do not have to put down the full 20% to purchase a home; There are a variety of loan options that require little to no down payment.
According to a survey conducted by Lending Tree, the ability to afford a down payment is one of  consumers biggest hurdles when trying to purchase a home. To many, saving for a down payment seems overwhelming and unattainable.
Consequently, this misconception discourages consumers to give up on their homeownership dreams before they even begin. Fortunately, according to the National Association of Realtors (NAR), today's average down payment is only 12% and has not been over 20% since 2005. Additionally, the down payment is even lower for first-time homebuyers, whose average down payment is 7%.
The Home Buyers and Sellers Generational Trends Report from the NAR, shows down payment percentage based on various age groups. In the chart below, on average, older homebuyers are more likely to put 20% down because they can use the sale of an existing home to fuel a larger down payment.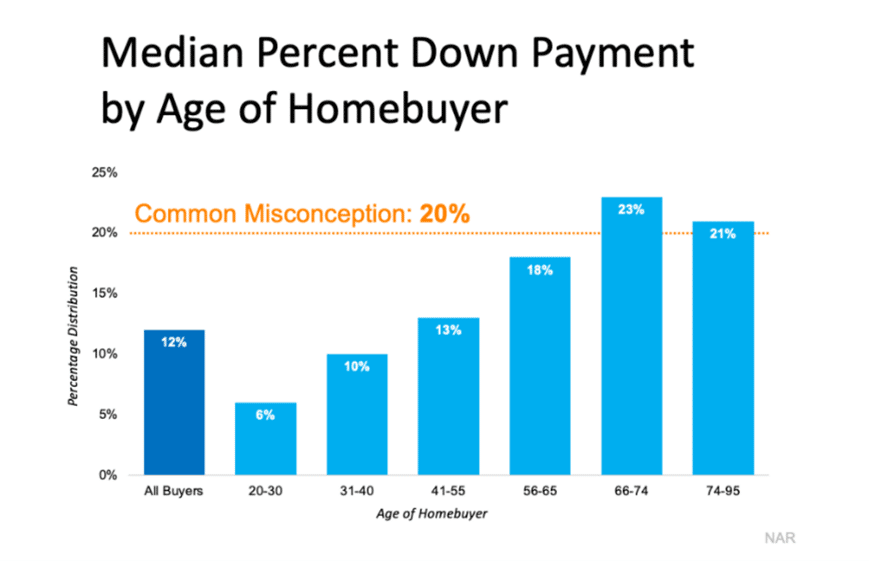 Let's explore some of the variety of loans Direct Mortgage Loans offers that require little to no down payment. Find a loan that is right for you today!
Fannie Mae Home Ready/Freddie Mac Home Possible Advantage Loan
Designed for the creditworthy, low-to-moderate income borrower, with limited down payment funds. HomeReady and Home Possible provide home financing options with up to 97% financing, or a down payment as low as 3%.
FHA Loan
Governed by the Housing of Urban Development (HUB), an FHA loan offers flexible guidelines for borrowers with limited down payment funds, and an imperfect credit history.
VA Loans
As a qualified veteran, active-duty member, or eligible spouse, you have earned VA housing benefits. These benefits include no down payment, no monthly mortgage insurance. The U.S. Department of Veterans Affairs has set eligibility requirements for a VA mortgage. If you're a military veteran or active service member looking to buy or refinance, learn more about your VA benefits by speaking with one of our loan officers today.
All in all, don't let this common down payment misconception get in the way of purchasing the home of your dreams. Contact one of our expert Loan Officers today to start the home buying process!