History has proven that recessions don't always equal a housing crash. Don't let inflation and higher interest rates discourage your plan of homeownership!  
What is a recession?  
The National Bureau of Economic Research (NBER) defines a recession as a significant decline in economic activity spread across the economy lasting more than a few months. Normally this is visible in real GDP, real income, employment, industrial production, and whole-retail sales.  
Is the U.S. headed for a recession? 
Unfortunately, many signs point in this direction according to The Guardian. Stating that new home construction has slowed in the last few months, and mortgage demand continues to decline. Furthermore, some of the country's most influential retailers are reporting disappointing sales, profits and future markets are signaling trouble ahead.  
As you may have heard, the Fed increased interest rates in an attempt to put a stop to inflation, increasing policy rates by 0.75%, the largest increase since 1994. Consequently, mortgage interest rates have already moved upward. This has caused buyers to cut back on their spending, thus slowing the economy. Don't panic- check out our blog Great Reasons to Not Let Rising Interest Rates Discourage You to put some ease to your mind!  
History Reveals that Recessions Do Not Equal a Housing Crisis 
It is hard to forget the magnitude of the 2008 crash, and how it affected the real estate market. After the 2008 housing crash, regulations were created to protect consumers from similar market crashes in the future. Government-backed loans, such as FHA Loans, are regulated by the Consumer Financial Protection Bureau (CFPB) to protect American consumers through life's financial decisions. The CFPB helped set in place new regulations that would not allow the 2008 housing crisis to occur again. 
What many people forget is there are many economic downturns that can result in appreciated home values. According to CoreLogic, history proves that an economic slowdown does not necessarily equal a housing crisis. In four out of the last six recessions, home prices appreciated, and only fell twice-minimally, in the early '90s and then by 20% during the housing crash in 2008.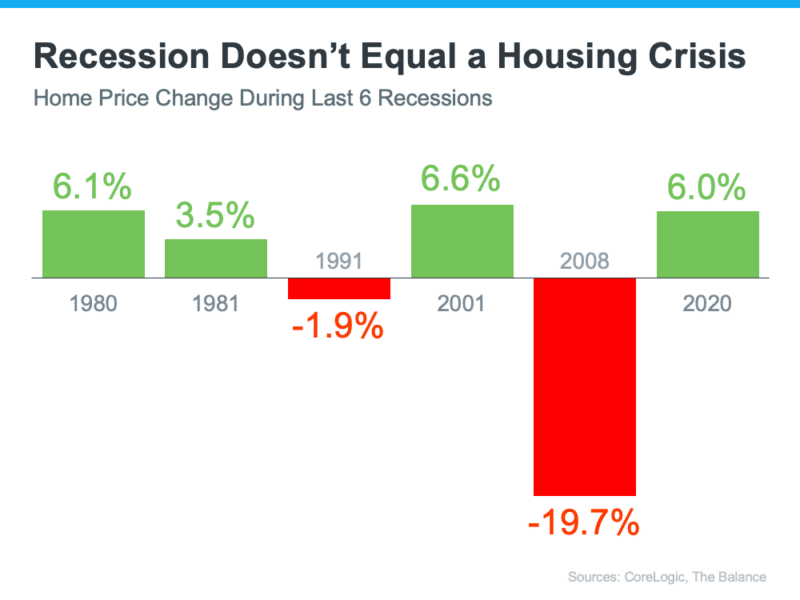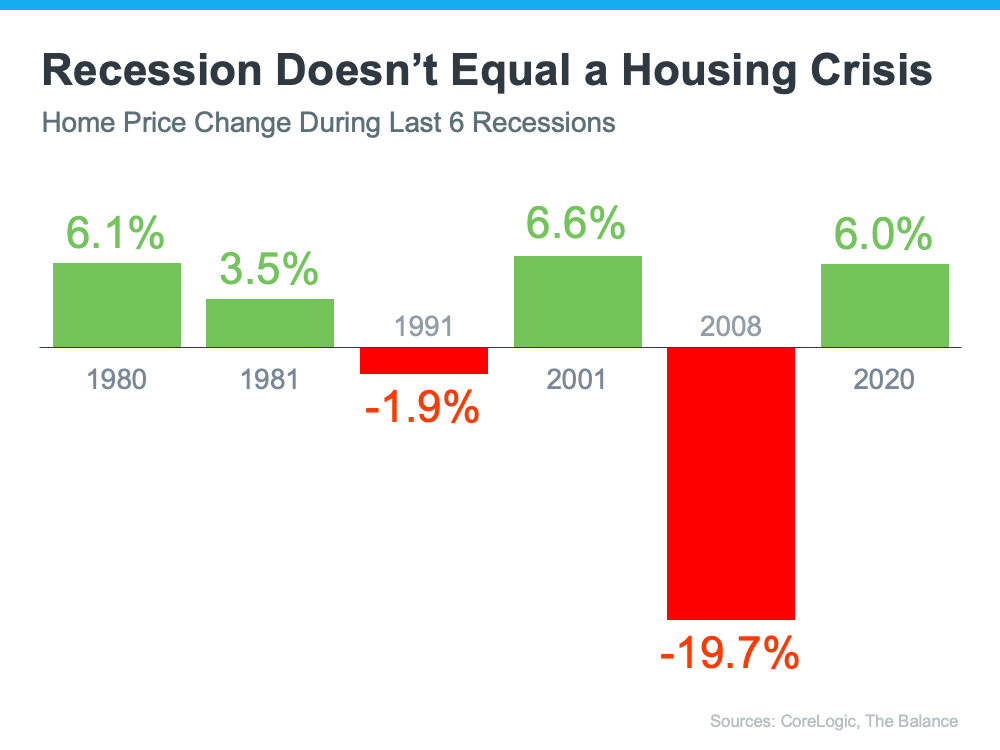 There's Still Hope for Homeownership 
Don't let inflation and higher interest rates discourage your plan of homeownership. You may wonder if buying a house in today's market makes sense or if you should wait. A home investment can serve as a hedge against inflation. When prices are rising, your home can protect you with stable housing costs, gains in costs, and potential tax benefits. Here's how homeownership can help you combat the rising costs of living that come with inflation.  
Protects against increasing costs by stabilizing monthly expenses:
With rental prices at an all-time high, you can protect yourself from increasing costs. Housing costs are typically one's biggest monthly expense. Purchasing a home with a fixed-rate mortgage allows you to lock in your monthly payment for the duration of your loan. Learn more to see if this loan option is right for you: Fixed-Rate vs. Adjustable-Rate Mortgage. 
Investing in an asset historically outperforms inflation:
While you may pay a higher price and mortgage rate than you would have last year. Purchasing a home allows you to build equity with the escalation of home prices. The graph below displays that the average home price appreciation outperformed the average inflation rate in most decades. Which gives homeownership a historically strong hedge against inflation. Read our blog How Homeowners Have Gained Equity in the Past Year to learn more about the options available to current homeowners.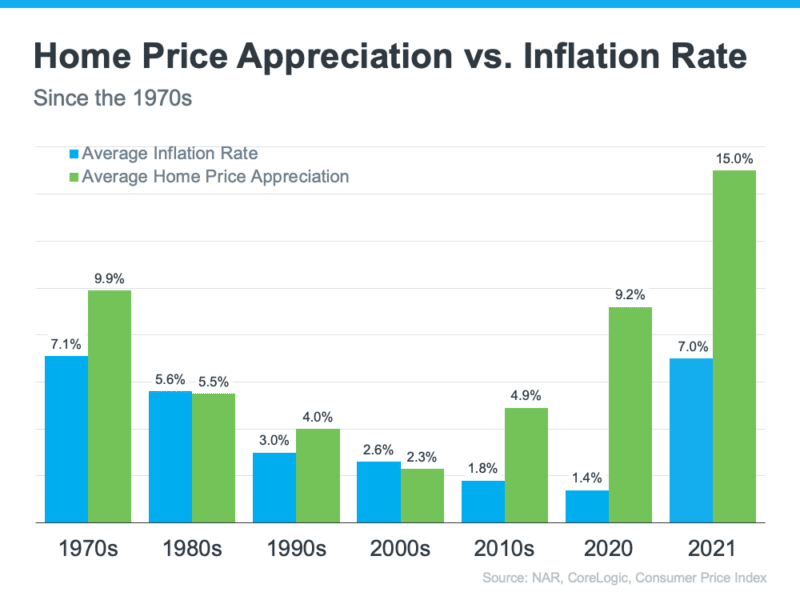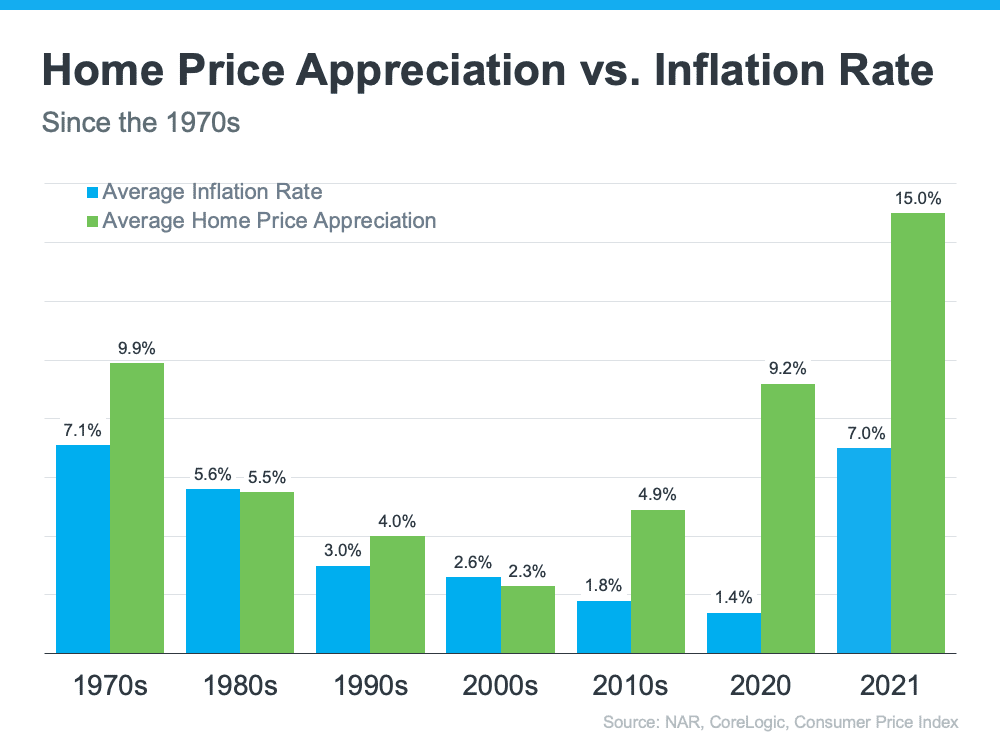 The Bottom Line
If you've been thinking about purchasing a home this year but have been rethinking your plans due to increasing inflation and the rise of cost of living, it is best to buy now instead of waiting. Learn why waiting could end up costing you more overall in our blog Should I Buy a House Now or Wait?  
Direct Mortgage Loans would be happy to answer any questions you have about the mortgage process. Contact a Loan Officer today to learn more.