Affordable and Simple Table Setting Ideas for Thanksgiving
Sharing a meal and giving thanks with your friends and family is what Thanksgiving is all about. However, there is a lot to consider in terms of food and décor if you're the one hosting. Setting a table is a great way make your guests feel special while adding some festive décor to your home this Thanksgiving.
Check out these affordable and simple table setting ideas for Thanksgiving! P.s. Don't forget to give your home the TLC it needs this fall. Check out our Fall Maintenance Checklist blog!
Kid Friendly Thanksgiving Table
Designate a separate table for kids and cover it in kraft paper to keep little ones entertained during dinner. Kraft paper can be found on Amazon or at your local craft store, and makes cleaning up a breeze! Add crayons to their table setting so they can create their own masterpieces on the table covering.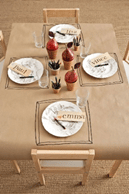 Throw In a Pop of Color to Your Table Setting
Try switching out traditional Thanksgiving colors like orange, yellow, and brown with pops of color. According to Town & Country, playing with shades like turquoise and soft green can create a whole new atmosphere that your dinner guests are sure to love!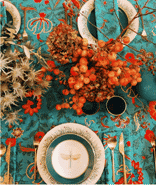 Personalize Your Thanksgiving With DIY Place Cards
Adding place cards to your Thanksgiving table is a great way to create a memorable and personalized experience for your guests. The possibilities are endless, but this DIY Cinnamon Stick Place Cards (pictured below) caught our attention. Not only are these easy to make, but they will also fill your home will fall aromas.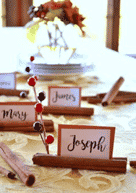 Add Some Flare With Patterned Napkins
Opting for a patterned napkin at your table is a great way to add some flare or tie your color scheme together. Plaid is a great pattern to use during the fall season. Additionally, consider adding a gold napkin ring around your white cloth napkin for a pop of color.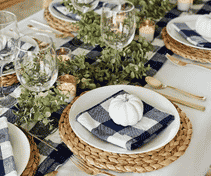 Create a Chic Outdoor Table Setting
Enjoying Thanksgiving Dinner outside can be a great way to keep your loved ones safe while enjoying some fresh air. Choose a spot in your backyard like your garden or porch, to set up your table. Make sure you add a tablecloth. Then secure with weights or stones to keep in place. Include blankets on chairs to keep guests warm and to create a warm and cozy feel!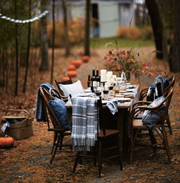 Make this year special by trying out one of these simple table setting ideas for Thanksgiving. Looking for some more fall inspiration? Check out our blog on How to Decorate the Perfect Fall Front Porch! If you're looking to purchase a home, contact one of our expert Loan Officers today!