If you have student debt, then homebuying is not off the table for you! The Maryland SmartBuy 3.0 Program helps homebuyers with student debt finance a home. The program works to assist homebuyers to pay off their student debt while purchasing an eligible home. 
What is the Maryland SmartBuy 3.0 Program?
The Maryland Smart Buy 3.0 Program is designed to help first-time home buyers, with existing student loan debt, purchase an eligible home in Maryland. Using conventional financing through the Maryland Mortgage Program (MMP), this pogrom allows qualifying borrowers to purchase a home and pay off their student debt by rolling it into a five-year forgivable loan.  
How does the Maryland SmartBuy program work?
Maryland SmartBuy financing provides up to 15% of the home purchase price to the borrower to pay off their outstanding student debt. The 15% caps out at $50,000 dollars; this is the maximum amount provided to the borrower for student debt. This is structured as a 0% interest loan, forgivable over 5 years. Furthermore, the full student debt must be entirely paid off at the time of the home purchase, and partial loan payments are NOT permitted under this program.
Maryland

Smart

B

uy

Eligibility

 

Requirements

 
To be eligible for the Maryland SmartBuy 3.0 Program, a borrower must: 
Have at least $1,000 of student debt (and up to 15% of purchase price). 

 

Have no more than $50,000 student debt.

 

Pay off student loan at the time of the home purchase.

Contribute at least 5% of the sales price of your own money to your home purchase.

 

Live in the home as primary residence within 60 days of closing.

 

Do not own any other property at the time of closing.

 

Be a 

first-time homebuyer

, except for those living in Baltimore City 

Maximum combined Loan-to-Value of 105% 

 

720 middle credit score 

 
Product Breakdown 
If you are eligible for the Maryland SmartBuy Program, here are how the loans are structured to provide this opportunity; There are two loans provided to the eligible borrower: one loan is a secured loan, and the other loan is an unsecured loan.  
The secured loan is a 

conventional amortization mortgage loan

 of up to 97% of the sales price of the home. This is a typical MMP loan.  

 

The unsecured loan is a 

forgivable loan

 of up to 15% of the purchase price of the home. This is used to pay off student debt. The forgivable loan is a 0% deferred loan with no payments, forgivable over 5 years at 20% per year.
Is this Program for You?
If you are eligible, then you may want to consider if this program. While it may be daunting to buy a home when you already have student debt, it is made possible with the Maryland SmartBuy 3.0 Program. It is also important to consider the major benefits of homeownership. 
Homebuyer Education

: Take a Homebuyer education class to learn about the process and get the required certificate. 

 

Pre-approval:

Work with your loan officer to get pre-approved to determine what you can comfortably afford.

Start your pre-approval process using our DML app!

 

 

Find a realtor:

A realtor will help you with finding homes that best fit your needs.

 

Submitting an Offer

: Once you find the perfect house, it's time to put an offer in. Your realtor will be able to guide you on what a competitive offer is and any other contingencies that the offer will rely on.

 

Loan Application:

Your loan officer will guide you through other required steps, such as a home inspection, appraisal, etc. The underwriting team will review your updated employment and credit information to make sure you qualify for a loan.

 

Maryland Mortgage Program Review

: Your loan officer will submit your loan package to the Maryland Mortgage Program team to ensure it complies with state requirements. After this approval is received, your lender will schedule the closing. 

 

Closing:

Once you sign the paperwork, you will receive the keys to your new home. Congratulations you're officially a homeowner!
Not sure if you qualify for this program?
For more information about qualifying for down payment assistance, you should research the programs that are available in your area and contact a Direct Mortgage Loans loan officer. Our experienced professionals are here to provide guidance and answer any questions you may have during the application process.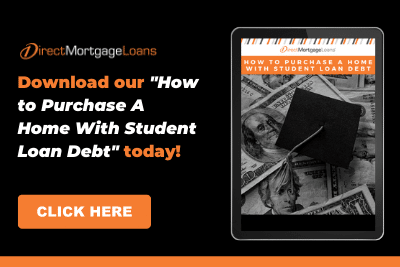 *Based on 30 year fixed rate loans. Loans are subject to Eligibility. Eligibility and approval is subject to completion of an application and verification of home ownership, occupancy, title, income, employment, credit, home value, collateral, Veteran status and underwriting requirements. Direct Mortgage Loans, LLC is licensed in Maryland. Direct Mortgage Loans, LLC NMLS ID# is 832799 (www.nmlsconsumeraccess.org). Direct Mortgage Loans, LLC office is located at 11011 McCormick Rd Suite 400 Hunt Valley, MD 21031. This is a paid endorsement. Equal housing lender.