When it comes to mortgage rates, it's all about perspective. Rates have certainly risen since the start of the year, but they're still low when you look at where they have been in the past.* According to Freddie Mac data, if you review mortgage rates from the past five decades, you will see rates reached a record-high average in the 1980s at 12.70%. In perspective, today's rates for a 30-year mortgage are still relatively low and affordable compared to the higher rates in the 80s. If you're looking to purchase a home but have concerns about the current housing market conditions, then read our blog Should I buy a House Now or Wait.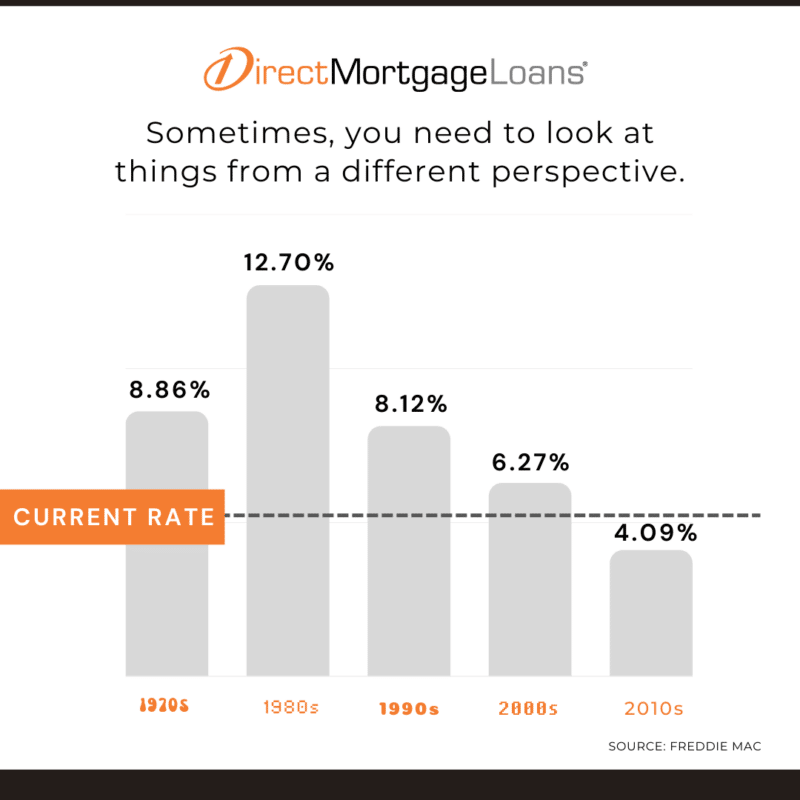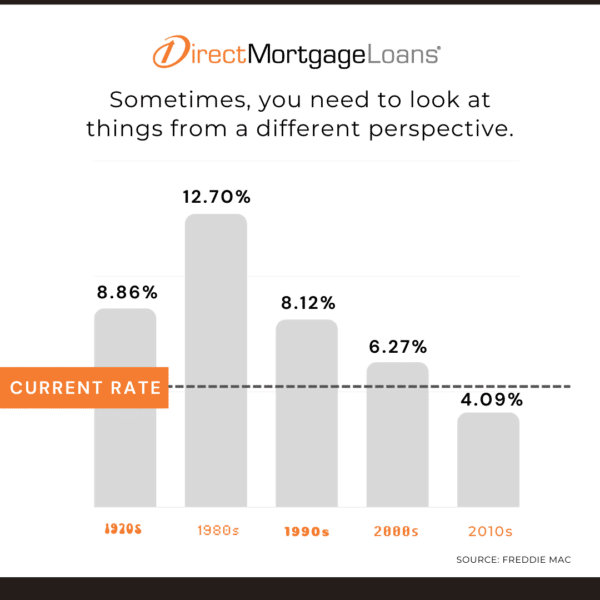 According to Mortgage Specialists, "Throughout history, during a recessionary period, interest rates go up at the beginning of the recession. But to come out of a recession, interest rates are lowered to stimulate the economy moving forward." In other words, if you can afford to purchase today, then you can afford your mortgage when rates drop. Although no one knows exactly what the future holds for the housing market, history shows that rates may eventually fall again in the future.
Learn how much house you can afford with today's rates.
Why should I become a homeowner in today's market?
If you start today, then you will start earning home equity. Consider it an investment in yourself. With a Home Equity Loan, you can borrow a specific amount and pay it back with fixed monthly payments over a specific period. This type of loan is ideal for one-time needs where you know exactly how much cash you need on hand. Read our blog How Homeowners have Gained Equity in The Past Year to learn how you can start earning equity!
What are the benefits of a Home Equity Loan?
Fixed, predictable payments.
Interest rates are closer to rates for a first mortgage.
Can refinance if the rates become more favorable.*
If rates drop, can I lower my mortgage payment?
To change your mortgage terms or rate, you'll need to discuss a refinance with your loan officer. A refinance is when you completely replace your current mortgage with a new loan that meets your personal and financial goals. When it's advantageous for you to refinance, review our blog Question to Ask Your Lender Before You Refinance.
Think of the process as how you would refinance a car loan. The refinance process doesn't have to be complicated, here is how you can refinance your mortgage in four simple steps!
Analyze Your Financial Goals:
Consider your personal financial goals to determine if a refinance coincides with them. There are typically four main reasons for a refinance – to reduce mortgage payments, to pay off the home faster, to tap into home equity, or to quit paying private mortgage insurance.
Check Your Credit Score:
Your credit score and credit history are a big factor in determining the mortgage loan product and interest rate for you. To assure a good interest rate** on your refinance, review your credit score and try to raise it as much as you can.
Gather All Application Documents and Apply:
Prepare ahead of time by gathering these documents ahead of time: two years of W-2s, two years of tax returns, bank statements, current liabilities, and homeowner's insurance policy. Then, you can download the DML app to apply for a refinance.
Prepare for Closing Day:
The last step in the refinance process is to sign the final paperwork to officially receive your new home loan. Be prepared with any needed documentation and the funds to cover any disclosed closing costs.
It's time to change your perspective on the housing market! There are many options available for those looking to become homeowners. Contact Direct Mortgage Loans to learn more about our
* By refinancing your existing loan, total finance charges may be higher over the life of your loan. Eligibility and approval are subject to completion of an application and verification of home ownership, occupancy, title, income, employment, credit, home value, collateral, and underwriting requirements. Direct Mortgage Loans, LLC is licensed in Maryland. Direct Mortgage Loans, LLC NMLS ID# is 832799 (www.nmlsconsumeraccess.org). Direct Mortgage Loans, LLC office is located at 11011 McCormick Rd Suite 400 Hunt Valley, MD 21031. This is a paid endorsement. Equal housing lender.