Summer is here! What better way to seize the day than by tackling some summer home maintenance projects. Here are a few exterior and interior maintenance items to complete this summer!
Exterior Summer Home Maintenance 
Declutter the Yard
Purge items that you no longer have use for that are cluttering your yard. Consider holding a garage sale or donating these items to your local charity. Moreover, give your yard the TLC it deserves by removing any debris, dead leaves, and branches. Read our blog on Decluttering Tips to help you take control over your home's organization!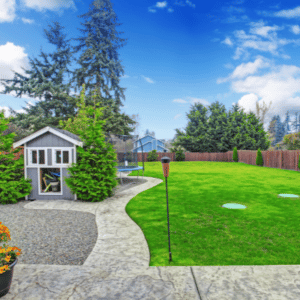 Apply a Fresh Coat of Paint
Adding a fresh coat of paint to your window trims, fence and/ or your house's siding can go a long way in enhancing your home's exterior features. Furthermore, a fresh coat of paint can help give your home a clean, well-minted look and even protect your home from sources of damage!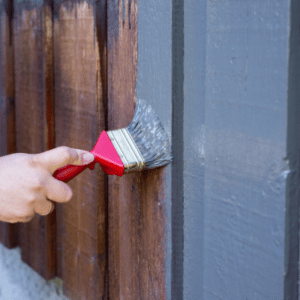 Tend to Flower & Plant Beds
Asses the health of your plants and remove any weeds and branches; trim and shape any existing shrubs or trees! Before replanting anything new, research which plants are best for the environment you live in. Check out our blog Essential Landscaping Tools for Homeowners to learn more about maintaining your home's property! 

Add Shutters to Windows
Shutters are a simple, inexpensive way to add instant charm to your home's exterior. Furthermore, consider installing new shutters or painting existing ones to complement your home's windows!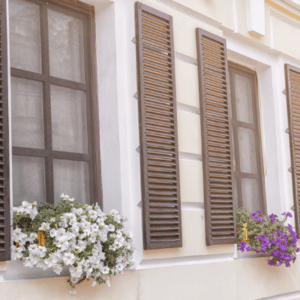 Upgrade Exterior Hardware
Replace outdated hardware like mailbox, house numbers, and door hardware. Upgrading your existing hardware is a quick and noticeable upgrade you can make to enhance your home's curb appeal!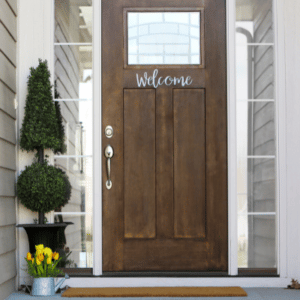 Spruce Up Your Driveway
Repair any cracks in your driveway and pull out any weeds sticking out of the pavement. Finish off by power washing your driveway and sidewalks to get them to look good as new.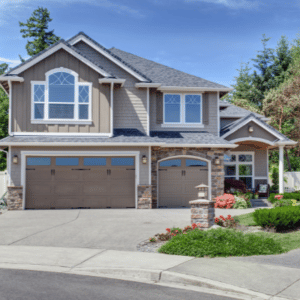 Dress the Front Door
Make your entrance pop by painting your front door and opting for a bold color. Additionally, consider adding a decorative wreath, potted plants, and a doormat to create a welcoming atmosphere!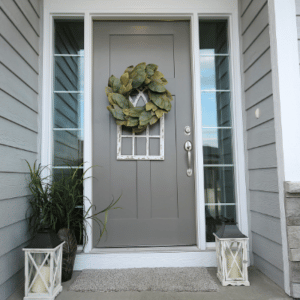 Pressure Wash Your Home
Keep your home looking brand new by pressure washing your home's exterior. Depending on the amount of buildup, consider using a pump sprayer or renting a pressure washer.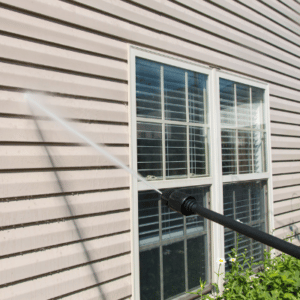 Mulch Your Garden Beds
During the scorching summer months, weeds begin to grow, and your soil may struggle to retain moisture. By simply adding more mulch around your plants, you can not only improve the aesthetic but also the overall health of your summer garden!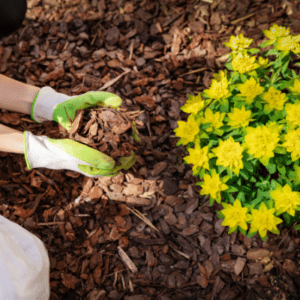 Have Your Roof Inspected
The roof of your house is especially important, and is a crucial home maintenance item. Have your roof inspected to ensure no shingles are missing. If any problems are reported, prioritize repair to keep weather outside out of your home! 

Wash Your Windows
Giving your windows a wash will help get rid of the dirt and grime, making your home have an extra shine! Not only should you be washing your windows from the outside, but the inside too. This maintenance will make your house look spotless from the street!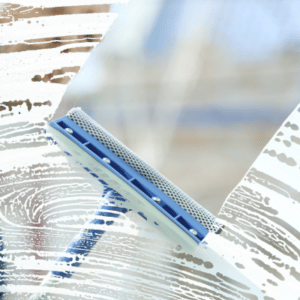 Interior Summer Home Maintenance 
Test Smoke Detectors & Carbon Monoxide Detectors
Check to ensure all smoke alarms and carbon monoxide detectors are working properly and replace any old batteries.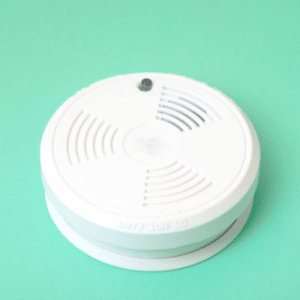 Reverse the Direction of Your Ceiling Fans
Reverse the direction of your ceiling fan to spin counterclockwise during the summer months. This will not only keep your home cooler, but can help you save money on your energy bill. Don't forget to dust the fan blades while you are up there!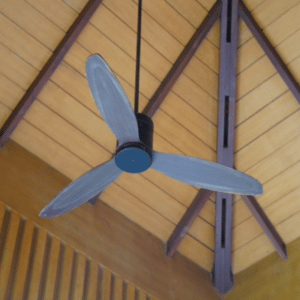 Replace Air Filter & Clean Vent Covers
Air conditioning vents are an easy chore to overlook but are magnets for dirt and debris. To clean your vent covers, unscrew corners, then place them in a sink of hot, soapy water. One they have soaked for a few minutes, rinse off with cool water. Remember to change your air filter monthly to prevent debris and dust building up!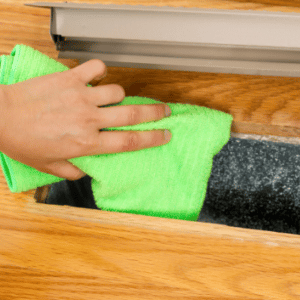 Wipe Down the Blinds
Fully lower the blinds and wipe them down with either a microfiber cloth or a vacuum. Continue to work from top to bottom so dust does not fall in areas you've already cleaned.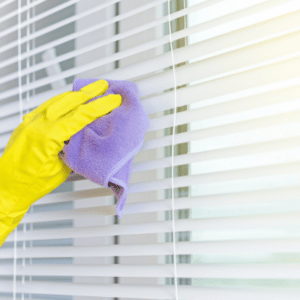 Clean the Refrigerator/ Freezer
Throw out any expired food and remove all shelving and drawers. Thoroughly wash all removable parts and wipe the inside with hot, soapy water. Don't forget to dry all items before placing items back.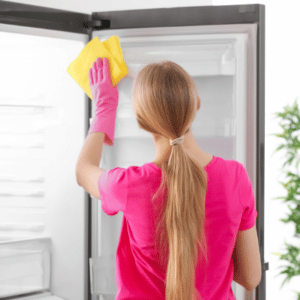 Dust the Baseboards
Vacuum along the length and top of baseboards. Dip a sponge in a mixture of warm water and dish soap and scrub any scuffs or stains. Use a clean microfiber cloth to wipe down any cleaning residue.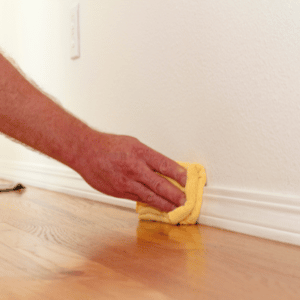 Wipe Down Microwave
Using a microwave-safe bowl, fill two cups of water and two tablespoons of vinegar and turn the microwave on high for five minutes. Carefully remove the container and turntable and begin wiping it down with a clean rag.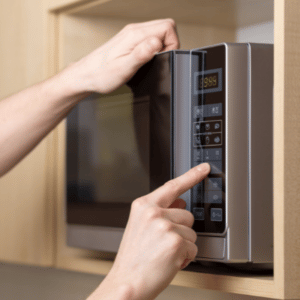 Rinse Out Garbage Cans
Gather all the garbage bins in your home (both interior and exterior) and spray with a degreasing solution. Use your hose to rinse the inside and outside of your trash bin. Then leave lid open and air dry overnight!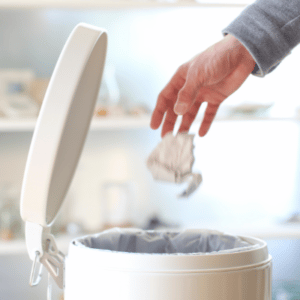 Vacuum the Dryer Vent & Exhaust Duct
Lint and dust can easily build up and clog your dryer vents. This is no minor issue as buildup over time can cause a house fire. Vacuum the inside and entrance of the vent using a hose attachment to suction out the debris. Learn more about how you can protect your home by reading our blog on Home Fire Safety Tips!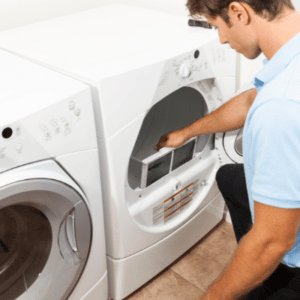 Make your home shine this summer by completing Direct Mortgage Loans' summer home maintenance projects! If you're looking for even more summer fun, check out our blog Yard Games and Activities: Summer Addition for a list of ideas that are sure to create lasting memories in your home with your family and friends. Ready to purchase the house and backyard you've always wanted? Contact a Loan Officer today!