Just like it sounds, jumbo loans are just bigger loans. Jumbo loans can be used to purchase a home worth more than the conforming loan limit set yearly by the Federal Housing Finance Agency (FHFA). Commonly referred to as a non-conforming loan, jumbo loans do not meet the lending standards set by Fannie Mae and Freddie Mac and are typically used for primary homes, vacation homes, second homes, and investment properties. Jumbo loans are also available as both fixed-rate and adjustable-rate mortgages.
Fixed-Rate Mortgage: Charges a set interest rate that remains unchanged throughout the life of the loan. This is a great option for someone who plans on staying in their home long term. It will ensure that the monthly mortgage payment is consistent, so you can budget accordingly.
Adjustable-Rate Mortgage: Characterized by interest rates that automatically adjust or fluctuate according to certain market indexes. Generally, an adjustable-rate mortgage (ARM) begins with an introductory or initial interest rate that may rise or fall. This type of mortgage offers more flexibility for those who may want to move in a couple of years, or for those who want to keep their long-term options open.
What type of buyer should consider a jumbo loan?
Jumbo loan products vary in terms and are available for a variety of property purchases. With the average home prices in many places around the country continuing to rise, jumbo loans have become an attractive option for borrowers. Typically, buyers should consider a jumbo loan if they plan to:
Upgrade to a larger home that does not meet conforming loan limits.
Purchase a second home or an investment property.
Buy a property in areas with particularly high home prices.  
Why do people get jumbo loans?
Jumbo loans are a great option for borrowers looking to finance more expensive properties that are priced above the conforming loan limit. One of the biggest benefits of a jumbo loan is the accessibility to more funding without having to take out multiple loans. Additionally, there is more loan flexibility for personalized options, like a piggyback loan!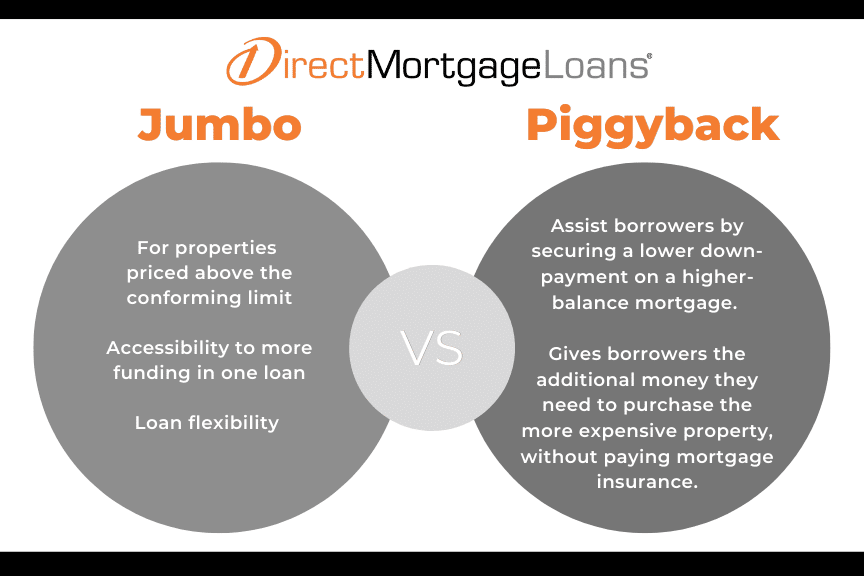 A piggyback mortgage, or piggyback loan, is one in which a second mortgage is given at the same time as the mortgage. The purpose of a piggyback loan is to assist borrowers with low down payments to borrow the additional money they need to purchase the more expensive property, without paying mortgage insurance. Additionally, it allows home buyers to finance above the conforming loan limit while maintaining a low-down payment.
Are jumbo loans harder to qualify for?
Yes and no. Although qualifications for jumbo loans tend to be stricter to qualify for since there is more risk involved, do not disqualify yourself. Instead, establish a good credit score to demonstrate your creditworthiness and save for a down payment by having a solid financial plan. Here are some ways you can save for a hefty down payment and ensure your credit score is up to par.
Saving for a Down Payment
Set aside a certain amount of money each month.

Use your tax returns towards your down payment.

If selling a home, use the funds directed towards the down payment.
Gift Funds: Consider utilizing gift funds to assist with your jumbo loan. Note: Gift fund requirements for investment homes have different terms than residential homes.
Cash-out refinances: A new loan will replace your current mortgage, with the new loan amount being greater than the amount you owe on your house. This allows you to pull cash from your home's equity to provide you with extra funds.
Tips to Raise Your Credit Score
Pay off any outstanding debt

Do NOT apply for too much credit.

Pay your bill on time, with no missed payments
Do NOT allow others (besides lender) to pull your official credit report
Keep credit balance below 30% of the credit limit.
At what amount is a loan considered jumbo?
Conforming loan limits for one-unit properties in 2022 is $647,200 in most of the U.S. and $970,800 in most high-cost areas. Therefore, any mortgage that exceeds the conforming loan limit is considered a jumbo loan. Here are the eligibility requirements for jumbo loans:
One-unit primary residences and second homes
The minimum loan amount is $1 above the conforming loan limit
The maximum loan amount is $3,00,000
Minimum credit score of 680
DTI Ratio: 43%- 45% *varies on credit score, LTV, and the loan amount*
Down Payment: 15% -20%
Is it hard to get approved for a jumbo loan?
Jumbo loan requirements are stricter, but that doesn't necessarily make it harder to get approved. Our app makes the pre-approval process simple and stress-free despite the stricter requirements for approval. The minimum jumbo loan requirements to get approved for a jumbo loan are:
Credit Score: To qualify for a larger jumbo loan amount, your FICO credit score will need to be higher than 680.
Debt-to-Income Ratio: The best jumbo loan lenders will consider your debt-to-income ratio. This will be stricter than a conventional loan because the jumbo mortgage lender doesn't want you to become over-leveraged. This number can be flexible but can only reach a 45% debt-to-income ratio.
Cash Reserves: Cash reserves in the bank are required for a jumbo loan. Loan-to-value (LTV), credit score, and debt-to-income will factor into the specific amount of cash reserves required for a jumbo loan.
Down Payment: With conventional loans, smaller down payments can be considered, but with a jumbo loan, at least 15% is considered the starting point.
Higher Interest Rates: Generally, jumbo loans have higher interest rates than conforming rates. However, this is not always the case, and every loan is evaluated on a loan-by-loan basis. Direct Mortgage Loans has multiple jumbo loan investors that offer strong pricing in certain scenarios, and you may qualify for a lower rate* than traditional loans if the applicant has a very high credit score, a good debt-to-income ratio, and a good down payment.
Jumbo loans are just one of the many options that can make your home-buying plans a reality. Whether you're looking to purchase a home priced above the conforming loan limit, or invest in a vacation or second home, Direct Mortgage Loans is here to help!
Rates are subject to market changes, down payment and borrower eligibility. Eligibility and approval is subject to completion of an application and verification of home ownership, occupancy, title, income, employment, credit, home value, collateral and underwriting requirements. Direct Mortgage Loans, LLC is licensed in Maryland. Direct Mortgage Loans, LLC NMLS ID# is 832799 (www.nmlsconsumeraccess.org). Direct Mortgage Loans, LLC office is located at 11011 McCormick Rd Suite 400 Hunt Valley, MD 21031. This is a paid endorsement. Equal housing lender.